Run by the biggest software development company in the world, Gmail is the most popular emailing platform in the world. Its user base cuts across business owners, employees, celebrities, everyday people, and even kids.
As such, Gmail could be an ideal place to get vital information about anyone you wish to track. When you learn how to hack a Gmail account, you'll not only get to read your target's messages, but you'll also have access to their accounts on YouTube, Hangouts, Google Maps, Google Calendar, and other Google apps.
However, it's pretty ironic how people search for Gmail hack tools on Google, which belongs to Gmail's parent company. "How to hack Gmail password" is actually the most searched key term relating to email hacks on Google.
With that happening right under their noses, Google has been running a counter-campaign dubbed the Bug Bounty Program, aimed at offering rewards for security experts and ethical hackers who can find and fix vulnerabilities in Google's products. No matter how hard Google tries, there are some factors that are just beyond their control, which hackers can take advantage of — such as the individual actions of users.
In this guide, we'll show you how to log into someone's Gmail without them getting a notification by exploring these security gaps.
How to Get Into Someone's Gmail Without Password Using Spy Apps?
We'll cut straight to the chase here and talk about the best method to spy on Gmail — spy apps. Top-notch spy apps can circumvent the tight security of Gmail by hacking the target phone — not the platform itself.
Spy apps latch on to a target phone's operating system, where they create copies of data generated by various phone activities, including those relating to Gmail. The phone data copies are saved on a remote server, which you can access via your user dashboard. In some instances, the tracked Gmail data can be quite comprehensive, with fine details like time and date stamps of messages as well as the senders/receivers.
The phone tracking operations of spy apps are usually untraceable on the target phone. Spy apps usually come with lightweight algorithms that don't require any significant amount of phone resources to operate — battery charge, phone data, or memory space. Neither do they display an icon nor symbol on the target phone's app drawer or home screen.
5 Best Apps to Log Into Someone's Gmail Without Them Getting Notification
Keen on acquiring a spy app for Gmail? You need to keep your guard up — a scam might be afoot. You'll get a flood of results when you Google the term "hack Gmail account online tool" — ranging from the tried and true to the fly-by-night scams with false claims.
However, here are the tried and true spy apps we'll recommend using:
mSpy provides all the criteria for a reliable Gmail spying app. It offers more ways than one for how to hack a Gmail account password easily. mSpy lets you read your targets' Gmail messages with a dedicated Gmail tracker. This feature shows you all the details of their sent/received messages, including time and date stamps, as well as the contact details of the sender/receiver.
mSpy also offers a keylogger feature that can capture your target's Gmail login credentials. There's also a remote screenshot feature you can use to take live pictures of your target's screen while they're using their Gmail.
SpyBubble is a powerful yet straightforward Gmail password cracker. It's pretty easy to install and comes with a straightforward user dashboard. You'll get easy access to features for tracking Gmail and other email platforms.
Once you have the app successfully installed on the target phone, finding your target's Gmail data can be as easy as opening your user dashboard and then scrolling to the section on Gmail activities. There, you'll find your target's Gmail data arranged in a neat, analysis-friendly format.
FlexiSPY

Tracking someone's Gmail activities is a cakewalk with FlexiSPY. You don't need to have any prior technical experience or undertake any complex technical tasks to use FlexiSPY. With simple installation and operation processes, you can find out everything your target does on Gmail.
You'll get to read up on their sent and received Gmail messages, see any files they send or receive on Gmail, flag emails you suppose are important, and have quick access to them. You can rest assured that your tracking activities will remain under wraps throughout your spying campaign.
Cocospy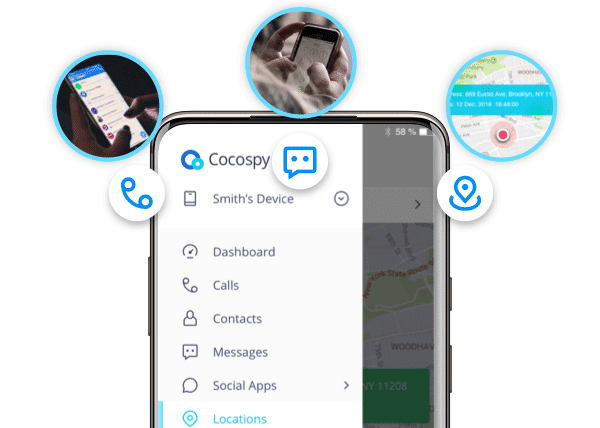 With Cocospy, you can learn how to hack a Gmail account password online without a fuss. Cocospy's high-tech, lightweight algorithm makes copies of your target's Gmail messages the moment they're sent or received on the target phone. With that, you'll get to see the messages whenever you want to — even after they've been deleted from the target phone.
What's more, Cocospy gives you access to several other spying tools besides the Gmail spy feature, including those for tracking social media apps like WhatsApp, Facebook, Instagram, etc., calls, SMS, and location.
Spyic
Spyic is another software that allows you to learn how to get into someone's Gmail without a password easily on any device. The app is compatible with any Android or iOS device and lets you track multiple devices with one account.
This makes it ideal for employers, spouses, parents, and anyone who wants to learn how to get someone's Gmail password without resetting it for ethical reasons.
As with the other apps we've recommended, Spyic doesn't expose your target phone to any security risks, and you can rest assured of keeping your cover throughout your spying campaign.
What Is the Most Reliable App to Hack Someone's Gmail Account?
Let's talk a bit more about our pick of the bunch — mSpy. mSpy packs a punch of high-tech spying features to give you great odds of finding something significant on Gmail and other platforms.
First, we have the email tracker, which taps data from every email app on the target phone, including Gmail. mSpy's Gmail tracker presents full details of your target's messages in a clearly labeled, neat data category. You also have the browser tracker, which lets you see every web page's content opened on the target phone's browser, including those relating to Gmail.
There are also the keylogger and remote screen features, which give you an easy way to hack a Gmail password without rooting or jailbreaking the phone. Rooting and jailbreaking are usually required to remove factory restrictions on the target phone to give spy apps high-level access to the phone's data. However, mSpy's keylogger and remote screenshot features can work without rooting or jailbreaking.
There's also a keyword alert tool that notifies you whenever your target sends or receives a Gmail message containing certain keywords. With that, you won't need to babysit your target all day. You only need to check up on them when you get an alert about suspicious conversations.
All these methods of how to find someone's Gmail password if a username is known are pretty straightforward, and you'll get an easy-to-follow guide when setting up the app. If you run into any technical difficulties along the way, you can always reach out to mSpy's technical support team. mSpy's responsive technical support team is always available 24/7.
Moreover, mSpy also provides several other tools to check up on your target's phone communications. You can track their call logs, SMS, activities on social media platforms like WhatsApp, Facebook, Skype, Snapchat, Kik, etc., as well as location data.
Step-by-Step mSpy Installation Process
The process of using mSpy to learn how to log into someone's Gmail account without them knowing can be broken down into just 3 easy steps. Here's how to hack a Gmail account password in this step-by-step instruction:
Step 1. Buy mSpy
Head over to mSpy's official website and then tap the 'Try Now' button. Fill out your personal details on the next page, and then select the type of device you'd like to track Gmail on. You'll then be taken to the subscription page for the version of mSpy you chose. Select the most suitable subscription plan and then complete your payment.
Step 2. Install and Set Up
Check your inbox for a confirmation email, which also contains further instructions on how to set up and install the app. If you're tracking an Android phone, you might need a brief moment alone with the target phone to load a link on it to initiate an automatic download and installation of the app.
For an iOS device, you might only need to enter the target's iCloud credentials to let the app access Gmail data updates on the target's iCloud account.
Step 3. Start Tracking
Once you've successfully completed the installation steps, you are in! To check up on your target's Gmail account, simply flip open your user dashboard on your device and navigate to the Gmail data category.
Top Easy Ways to Hack Gmail Password Without Any Software
"Alright, enough with spyware," right? So, you're wary of all the drawbacks that can accompany spyware — including a dent in your wallet. You just want to learn how to get things done without these drawbacks. Your wishes aren't far-fetched. Here's how to hack a Gmail account without any software:
Hack Gmail Account Password Online With Browser Extension
This method entails building a browser extension that's a Trojan horse. When the carrier site is loaded on your target phone, a popup prompts your target to download a browser add-on, which is a Trojan horse disguised.
You can disguise the hacking extension as an add-on for news updates, social media feed updates, or something related to your target's favorite sites or phone activities. Once the add-on is installed, you can then get unfettered access to your target's Gmail account.
You'll literally take control over the Gmail account, sending deterring messages or deleting those from suspicious sources.
Figure Out Someone's Gmail Password With Social Engineering
With this method, you don't need any technical skills, but you might need to get really creative. It entails gathering information on your target and learning how to crack a Gmail password without any software.
You can use the information for a password recovery attempt or find clues about the password: their phone number, their spouse's phone number, family or friends, their date and place of birth, etc.
Once you gather this information, you can head over to Gmail to initiate a password recovery attempt for the target's account. Furthermore, you can try out a series of password guesses based on this personal information.
Hack Gmail Account Password Easily With Keylogger
Another sneaky method you can use to track someone's Gmail without getting caught is using a keylogger. With a keylogger, you can secretly collect your target's Gmail credentials to access their account from your device.
Keyloggers are generally untraceable, and they generate analysis-friendly reports that will quickly help you identify your target's Gmail credentials from their recorded keypresses.
Final Thoughts
Gmail uses the best data security protocols in the industry, but it still has vulnerabilities that can be exploited. We've discussed ways that you can bypass the ironclad security layers protecting a Gmail account to help you learn how to figure out someone's Gmail password successfully.
For that, you need to set up a spy app directly on the target phone. With top-notch apps like mSpy, you'll have several tools to obtain Gmail data from a target phone. You can obtain your target's Gmail credentials using the keylogger, take a remote screenshot when your target is using their Gmail, or check up on their browser data, including those relating to their Gmail activities.